How Dental Implants Work – Lynchburg, VA
The Restoration the Will Improve Your Quality of Life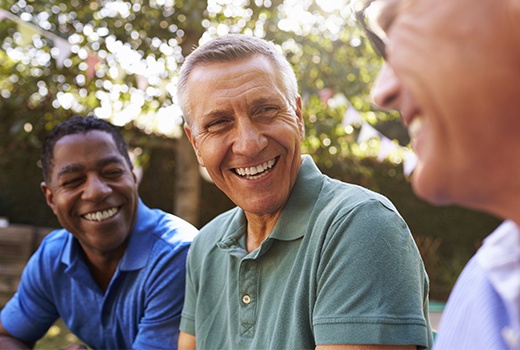 Are you considering dental implants in Lynchburg to replace your missing teeth and want to learn more about the process? Choosing a restoration option can be a daunting task, but at Peery & Woolwine Family Dentistry, our team of professionals is here to walk you through every step of the process. We want you to feel comfortable and confident in your decision, which is why we've outlined a timeline leading up to the placement of your new teeth.
Initial Dental Implant Consultation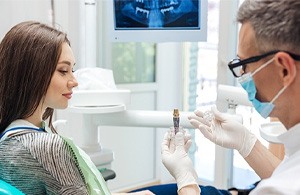 The first step to replacing your missing teeth and improving your day-to-day quality of life is to schedule a consultation with us. This is a great opportunity for you to ask Dr. Peery any questions or concerns you may have about the process. After taking X-rays and creating a detailed blueprint of your mouth and oral health, we'll discuss several restorative options that you have and develop a unique plan for your surgery. Whether you're replacing a single tooth or multiple, we'll discuss if a crown, bridge, or implant-retained dentures are the best choice for you.
Dental Implant Surgery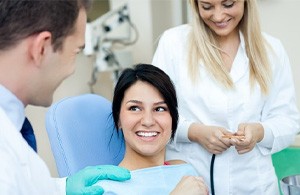 After developing your customized treatment plan, your implant surgery will be scheduled. At Peery & Woolwine Family Dentistry, we place and restore dental implants in our very own practice, so we can give you a hassle-free and easy experience! We will place the titanium implants in your jawbone where the gap in your mouth is. Every patient's experience is different, but typically, you'll experience minimal discomfort and be able to return to work the next day. You may notice some swelling, bruising, or slight bleeding after the surgery, but nothing that can't be managed with over-the-counter pain relievers.
Dental Implant Osseointegration & Abutment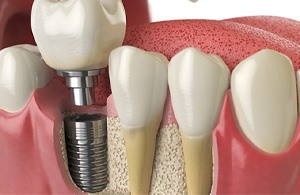 As your gums are healing from the surgery, your implants will begin to fuse with your jaw through a process called osseointegration. This makes your implants a strong, long-lasting, and durable foundation for your restorations to be placed on. The process can take a few months, but once it has been completed, we will place the connector pieces called abutments on top of the implants. These pieces will secure your restorations in place.
Placement of Dental Implant Restorations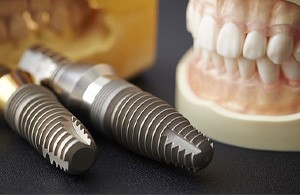 The last step of the process before you're able to enjoy your new beautifully restored smile is to place your replacement teeth. At our practice, we offer CEREC same-day crowns, which allows us to custom-craft a quality restoration in our office, so you won't have to wait for it! After your gums heal from your abutment placement, we take impressions of your mouth to custom make your crowns, bridges, or dentures. After they're crafted to our specification, we will attach them to the abutment.
We do like to remind patients that although your new teeth are durable and long-lasting, it's still vital to keep up with your oral hygiene routine as well as regular checkups and cleanings with your dentist in Lynchburg. This will ensure that you get the most out of your new investments!