Dental Crowns – Lynchburg, VA
Durable and Natural-Looking Restorations
Out of all the restorations dentists use, dental crowns have to be one of the most common. This is largely because of how versatile dental crowns can be. It doesn't matter if you're trying to restore the overall integrity of your bite or hide imperfections that cosmetic treatments simply aren't capable of solving. Whatever your needs are, dental crowns are sure to give you a result that you're proud to show off and confident to live with for many years! If you're in need of a dental crown, the dentists at Peery & Woolwine Family Dentistry are here to help. Give their office a call to get started.
Why Choose Peery & Woolwine Family Dentistry
for Dental Crowns?
CEREC One-Visit Restorations Available
3 Dentists with Years of Experience
Most Dental Insurance Plans Accepted
How Does a Dental Crown Work?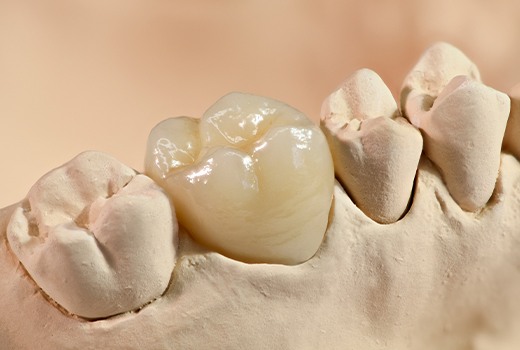 Each crown is customized to fit over natural teeth exactly. This is not only crucial to creating a protective seal, but ensuring that your bite remains even after placement. Uneven restorations can negatively affect the bite, resulting in increased enamel erosion and added strain on the joints connecting the jaw to the skull. In order to ensure an accurate fit, dentists remove all decay and bacteria from your tooth, then take an impression. Thanks to the CEREC technology in our office, we can capture a digital impression, so there's no need to bite into goopy impression material just to have your permanent crown made.
Once the impression is collected, we use highly advanced CAD/CAM software to make any adjustments as needed prior to its fabrication. The creation of your new crown only takes about an hour to complete, so you don't need to schedule an additional visit just to have your permanent crown made.
The Benefits of Dental Crowns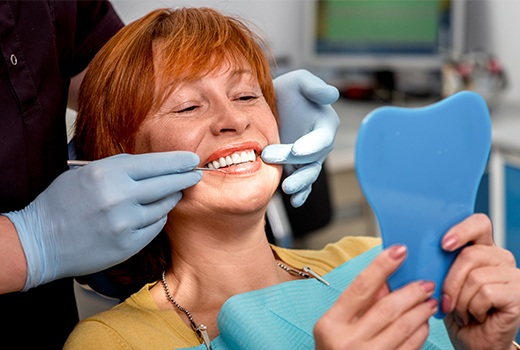 Dental crowns are designed to solve many problems with teeth all in one treatment. For example, if a tooth is experiencing significant decay that a filling would be incapable of restoring, a dental crown can effectively cover the entire tooth and seal the damaged portions away from the rest of the mouth. Additionally, crowns prevent the tooth from breaking apart further, eventually leading to an extraction. Dental crowns give your natural tooth a second chance, which is always a better solution than extracting the tooth outright.
Understanding the Cost of Dental Crowns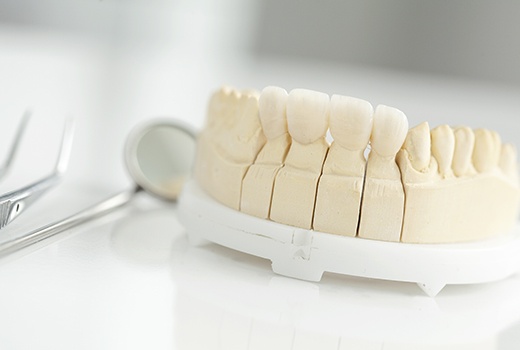 When determining the cost of your dental crown, it's important to recognize that the price can vary depending on the materials used, the tooth that's being restored, and your insurance coverage. Most insurance plans cover major restorative treatments between 50% and 60%, but this varies from policy to policy. Most dental crowns cost a minimum of $800 and can cost as high as $1,500. The best way to determine the cost of your new crown is by scheduling an appointment with the dentist. Our office is more than happy to go over your options to make paying for treatment easier.
Dental Crowns FAQs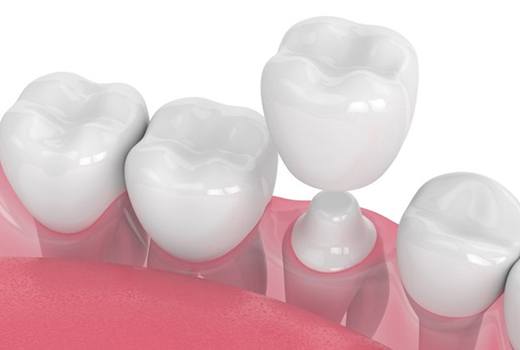 Thanks to modern technology, today's dental crowns in Lynchburg are more lifelike and long-lasting than ever before. Not to mention, the whole process only takes a single appointment! Still, our team understands that you might have a few questions or concerns ahead of your visit. For that reason, we've included the answer to a few questions about dental crowns that we get asked often. Of course, feel free to call us if your question isn't answered below!
What Happens If You Wait Too Long to Get a Dental Crown?
Generally, our dentists will only recommend that you get a crown if the tooth can't be repaired any other way. If that's the case, we can't stress enough the importance of receiving your crown as soon as you can. You might feel tempted to put off the procedure – especially if your tooth isn't bothering you – but waiting too long could put the tooth's health at risk. Without the protection of a crown, the tooth remains vulnerable to chewing pressure, food debris, and harmful bacteria, all of which could worsen any decay or damage the tooth has already sustained. After enough time has passed, the tooth might end up needing root canal therapy or even an extraction!
To keep your tooth as strong and healthy as possible, try to schedule your dental crown procedure soon after your dentist in Lynchburg recommends it. With our same-day CEREC crown technology, the treatment will only take half the time at Peery & Woolwine Family Dentistry than it would at most other dental offices!
Do Dental Crowns Feel Natural?
Yes! Because we gently reshape the tooth that will support the crown, it won't bulge out awkwardly compared to the teeth surrounding it. Additionally, we'll capture digital impressions of your tooth that will serve as a precise model for your crown. Therefore, your crown should not only look like any other part of your smile, but it should feel incredibly lifelike too.
How Long Do Dental Crowns Last?
On average, a dental crown will last between 10 and 15 years, but this depends mainly on how well you take care of it. Crowns require the same type of care as natural teeth; you'll need to brush and floss daily as well as visit our dental office for routine checkups and cleanings. You'll also want to limit foods that are too sticky or hard, as they could loosen or damage your crown and shorten its lifespan.
Does It Hurt to Get a Dental Crown?
Before we begin preparing your tooth for crown placement, we'll administer local anesthetic to the area to ensure that your mouth is fully numb. For patients who have difficulty responding to the numbness, or who need a little help feeling relaxed, we also offer nitrous oxide sedation (or "laughing gas"). After we've finished placing the crown and you have regained sensation in your mouth, that tooth might feel sensitive or sore for the next day or two. However, this should only be temporary, and over-the-counter pain relievers like ibuprofen should be more than enough to manage it. Of course, please call us if you experience worsening pain in that tooth.