Dental Implants – Lynchburg, VA
Permanently Replace Your Teeth
Have you lost a tooth? Not seeking treatment for an absent tooth could result in a complete change in your bite, which can ultimately create other complications. A gap-ridden mouth may affect your self-image as well. Fortunately for patients in the Lynchburg, Virginia area, Dr. James M. Peery, Jr., Dr. James M. Peery III, and Dr. Samuel Woolwine III might be able to help! Dental implants can offer a stable, permanent way to fill in your smile, and they can also rejuvenate your overall appearance. Not everyone qualifies to get a dental implant, however, so please call Peery & Woolwine Family Dentistry today to learn if you can receive this reconstructive therapy.
Why Choose Peery & Woolwine Family Dentistry
for Dental Implants?
Implant Placement Performed at Our Lynchburg Office
Advanced Technology for Increased Comfort and Success
Calming Sedation Dentistry is Available
What is a Dental Implant?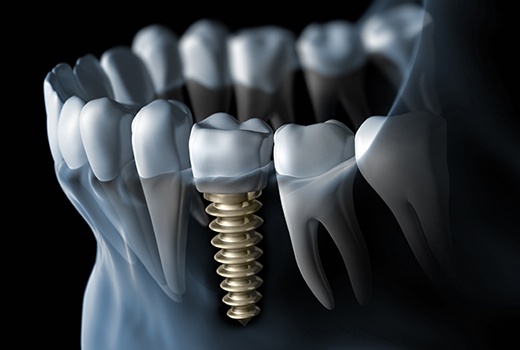 A dental implant is actually a tiny screw, which is placed in the socket of the absent tooth. Over time, the bone there will fuse with your dental implant to form an artificial tooth root. A good dental implant candidate needs to have a strong jaw in order for the implantation to be successful. The team at Peery & Woolwine Family Dentistry will evaluate you prior to planning your dental implant procedure. Once it's been determined that you do meet all our requirements, Dr. Peery will be able to proceed with your treatment. Because we care about our patients' comfort and safety as much as we do the precision of implant placement, we utilize a 3D CT scan to achieve unparalleled accuracy in guided surgery. In many instances, the placement process can be completed without even making an incision.
Learn More About How Dental Implants Work
Benefits of Dental Implants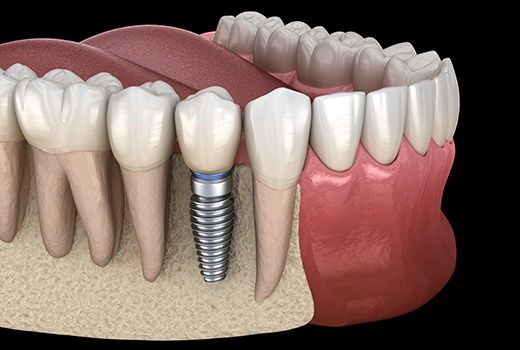 Tooth loss does not only prevent you from enjoying the foods you love. It also results in neighboring teeth shifting inwards to compensate for the additional space. This only increases the risk of gaps in your smile, misalignments, and even gum disease. By placing an implant, you prevent this shift and keep your smile in a healthier and straighter position.
Additionally, teeth are responsible for stimulating the jawbone. If the jaw is missing teeth, the alveolar bone responsible for keeping your biting force strong begins to deteriorate. Since dental implants are intended to replace the root of teeth, you'll prevent the bone from deteriorating and keep your biting force as strong as possible.
Finally, dental implants are designed to last longer than any other form of tooth replacement. With a lifespan lasting as long as 25 years to a lifetime and a success rate as high as 98% after 10 years of use, it's difficult to argue that traditional bridges or dentures will offer a more effective long-term replacement.
Indications for Dental Implants
Since there are many ways to effectively replace teeth via dental implants, you'll want to go over our options prior to your visit!
Missing Single Tooth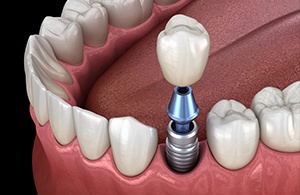 Replacing a single tooth involves just one titanium implant and one all-porcelain crown. Thanks to titanium's biocompatibility, there's no worry of whether or not your jaw's organic structures will effectively bond with your prosthetic root. An all-porcelain crown ensures that your new tooth blends in with your smile and looks natural.
Missing Multiple Teeth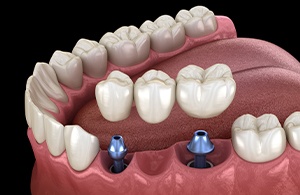 Traditional bridges can be custom-made to fit on top of dental implants. What's great about implant-retained bridges is that they don't require the removal of tooth structure to place, which is always the case for traditional bridges. Just two implants are needed to hold a two- or three-crown bridge.
Missing All Teeth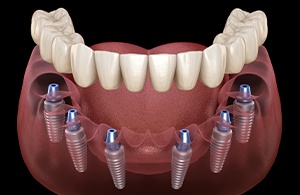 Those who currently use dentures will be excited to learn that just four to six implants can be used to retain a full arch of teeth. It doesn't matter if you're replacing the top or the bottom arch, implants can effectively hold your denture better than the natural suction of your gums.
Understanding the Cost of Dental Implants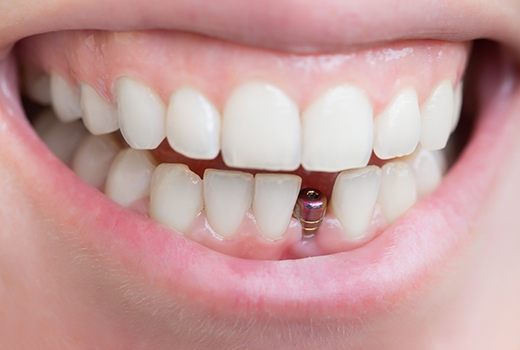 Since there are many factors to take into account, it's difficult to give an exact cost for your dental implant treatment. For example, the number of implants you need will largely affect the total cost, as well as the type of restoration. If you need preparatory treatments, including a bone graft or sinus lift, to become eligible for implants, these procedures will affect the total cost as well.
Even if your treatment comes at a high price, it's important to consider the fact that despite this, dental implants are still regarded as the most cost-effective solution for tooth loss. This is because they don't require the same level of maintenance as other solutions, nor do they require replacement as often. In fact, proper care can dramatically increase your chances of making them last a lifetime.
If you'd like to learn more about our dental implants or if you're ready to schedule a consultation, please call Peery & Woolwine Family Dentistry today. Does visiting the dentist make you nervous? We have sedation dentistry methods that can help you relax. Just ask our staff about the service when you call! We see dental implant patients from Lynchburg, Miller Park, Montview, Madison Heights, Woodland, and other Virginia towns.
Maintaining & Caring for Your Dental Implants
Dental implants can last upwards of 30 years and even the rest of your life, but it's essential that you take all of the right steps to care for them. If you aren't taking the time to protect your dental implants from damage, you could end up with a dental implant failure and needing a replacement. The good news is that a few simple precautions and healthy habits can help you to enjoy your new smile for many years to come. Here are some tips to help.
Make Oral Hygiene a Priority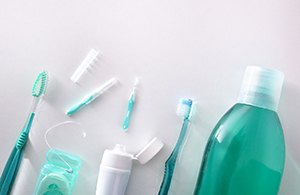 While dental implants cannot get cavities themselves, you still need to practice excellent oral hygiene. In addition to keeping your surrounding teeth healthy, sticking to a great dental hygiene routine can prevent other dental problems, like gum disease, that can cause your implants to fail. Remember to brush twice, floss, and rinse with mouthwash every day. Always use a soft-bristled toothbrush and fluoridated toothpaste.
Eat a Healthy Diet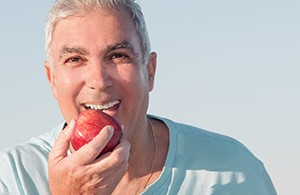 One of the great things about dental implants is that you don't have any eating restrictions. This means that you can easily enjoy a full, nutritious meal without having too much trouble. Just remember that enjoying too many foods that are hard, sticky, or sugary can cause or worsen oral health issues over time. Instead, consume foods with plenty calcium and vitamin C to keep your jawbone and gums healthy.
Break Bad Habits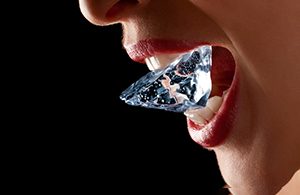 Bad habits can cause your dental implants to fail over time. Don't smoke or use tobacco products immediately after your procedure, as they can slow down healing and increase your risk of infection. Don't use your teeth as tools either. You could easily end up damaging your implant or a surrounding tooth. Instead, find a tool that can help you complete your task safely.
Protect Your Dental Implants
Your dental implants are very strong, but they aren't completely indestructible. Be sure that you always wear a mouthguard to protect your dental implants while playing sports. If you grind your teeth at night, ask about a nightguard to protect your dental implants from additional wear and tear.
Schedule Regular Dental Checkups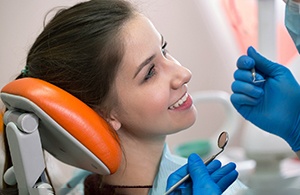 Remember to always attend your regular cleanings and checkups every six months. This way, we can monitor your dental implant and spot any issues as early as possible. By catching issues early, we can prevent them from becoming more serious and leading to consequences, like a failed dental implant.
Dental Implant FAQs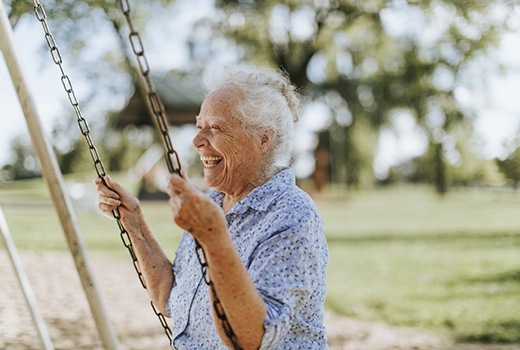 Do you have more questions about the dental implant process? For your convenience, we've answered some of the most common questions we receive from our patients below. That way, you can feel confident in your decision to get the latest tooth replacement treatment.
Does dental implant surgery hurt?
Most of our patients report that they're able to get back to their regular routine a day or two following their surgery. Before the procedure begins, you'll be completely numbed with local anesthesia. This way, you won't have to feel any pain during the surgery. It is common to feel tenderness and discomfort once the numbing wears off though. When this happens, you can take over-the-counter medication to help ease the pain. If you have any questions about recovery after the procedure, don't hesitate to contact our office. We'll let you know whether it's something to be concerned about.
How long do dental implants last?
With the proper maintenance, dental implants can last for up to 35 years. This is primarily thanks to the fact that when the titanium posts are placed underneath your gums, they form a thin oxide layer. This is a protective shield that naturally forms to keep them from eroding. Once your restorations have been placed, we'll let you know the best ways to take care of your new teeth.
Am I too old to get dental implants?
No patient is ever too old to get dental implants. Patients who are over 90 have received implant-retained restorations and loved them! In fact, many people wish that they had gotten implants sooner once they've had a chance to enjoy all of the benefits they have to offer.
Will I have to continue getting checkups and cleanings with dental implants?
Even though your restorations can't get cavities, it's important to regularly visit our office for checkups and cleanings after your procedure. Without healthy gums, your new teeth could be at risk. When you visit us every six months, we'll examine your mouth and make sure that your dental implants are fully functional and provide you with a thorough cleaning to ensure the health of your gums. We'll also let you know how any bad oral habits (such as smoking) may be impacting your restorations. This will allow you to get ahead of the curve and protect your mouth from possible damage down the road.
Is it hard to take care of dental implants?
Before you leave our office after we place your restorations, we'll provide you with some basic maintenance tips to help you get the most out of your dental implants. We typically suggest some of the following practices:
Maintain a nutritious diet.
Be mindful of hard, chewy, and sticky foods.
Brush twice each day and floss at least once every day.
Visit our office every six months for a checkup and cleaning.
If you have any other questions, don't hesitate to contact our office.