November 30, 2020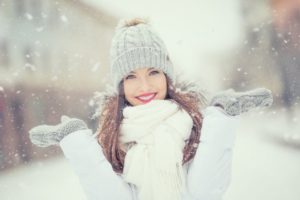 The winter season comes with holidays, family and friends, and fun days playing in the snow. While all these things are wonderful, the winter bluster is not a friend to your oral health. Millions of people struggle with winter mouth issues during the colder months, and your Lynchburg dentist has some tips to share that can help you fight the cold this year.
How to Avoid Winter Mouth Issues
Unless you're planning on taking your family to the tropics for the next few months, you're all in for another chilly Virginia winter. Snow might make for fun days outside, but the cold dry air can do a number on oral health. Here are some simple steps you can take to protect your mouth from the winter freeze this year:
Breathe Through Your Nose When You're Spending Time Outside
Millions of people struggle with the issue of sensitive teeth, and this condition is exasperated by the extreme cold in the winter. It's also important to note that cooler temperatures cause your tooth enamel to contract, while warmer ones that they may come in contact with while you drink a hot beverage can cause them to expand. This sudden change in extreme temperatures can lead to breakage so try to breathe out of your nose when you're outside in order to protect your teeth from the cold.
Stay Hydrated
Chapped lips as a result of cold, dry air is one of the most common winter mouth issues. Temporary moisturizers like petroleum jellies and lip balms are great provisional options, however, the best way to keep your lips from drying out and cracking is to drink water. The two may not seem connected, but when you're entire body is hydrated, your lips will stay moist.
Be Mindful of Your Caffeine Intake
Even if you're only in the habit of drinking one cup of coffee a day, the holidays may be a time when you find yourself indulging in a second or third throughout the day to keep your engine running in the midst of the busyness. Even though it may put a bit more pep in your step, caffeine is a prime offender when it comes to dehydration. Before stopping by another coffee shop while running errands, drink a bottle of water to balance out the hydration.
Watch Out for Germs
If you've learned anything about health this year, it's how important it is to avoid germs to stay well. Along with the winter months comes cold and flu season, and these illnesses often cause a stuffy nose. If your nasal passages are congested, you'll naturally breathe out of your mouth, which can result in a dry mouth, and this allows bacteria to spread more easily. Make sure to wash your hands often and do everything you can to keep your body and mouth healthy this season.
Even though you can't control the weather, you do have power over your approach to the colder season. Practice these tips and stay healthy this holiday so that you can avoid winter mouth issues.
About the Practice
The team of experts at Peery & Woolwine Family Dentistry is passionate about giving each of their patients the gift of oral health by teaching them how to properly take care of their smiles. Their practice is built on trust and long-lasting relationships, and they prioritize the comfort of everyone they care for. Is your mouth ready for the winter season? schedule an appointment online or call (434) 847-5331.
Comments Off

on How to Avoid Winter Mouth Issues
No Comments
No comments yet.
RSS feed for comments on this post.
Sorry, the comment form is closed at this time.