September 29, 2020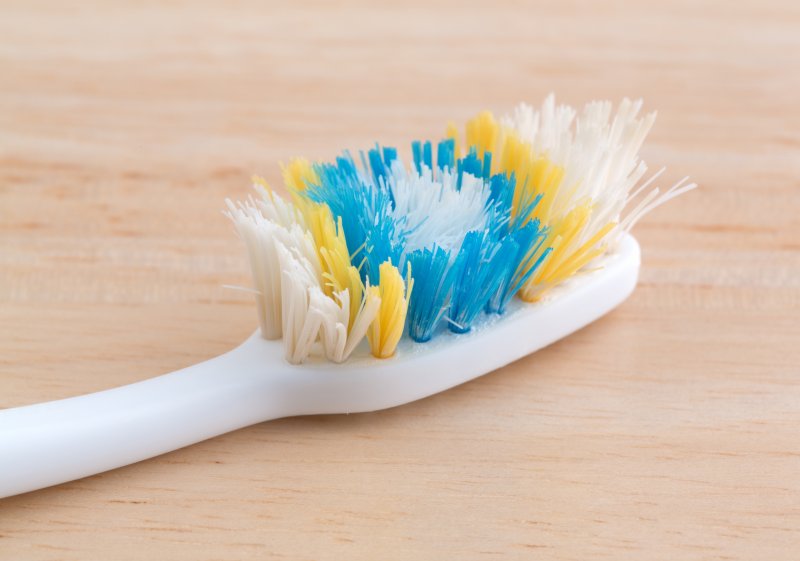 One of the most important steps you can take regarding your oral health is brushing at least twice a day, but an old toothbrush won't do you much good. Many people don't know when the best time is to change their toothbrush and use the same one for far too long. Unfortunately, they don't last forever and need to be replaced so you can maintain optimal oral health. Continue reading to learn more about this essential dental tool and how often you should switch it out for a new one.
How Often Should You Change Your Manual Toothbrush?
You should get a new manual toothbrush at least every 3-4 months according to the Centers for Disease Control and Prevention (CDC). After you have a toothbrush for this long, the bristles will begin to lose their stiffness and become much less effective at their job. Ultimately, your teeth won't be as clean. With additional plaque, food debris, and bacteria left behind, you are more likely to develop bad breath, tooth decay, and even gum disease. It is also a good idea to switch out your toothbrush if a household member is sick, especially if they have a viral or bacterial infection, such as strep throat.
When Should You Change Your Electric Toothbrush?
For electric toothbrushes, the head needs to be replaced approximately every 12 weeks. The difference between the bristles on an electric toothbrush is that they tend to be shorter. This means that they become worn and less effective in even less time than a manual toothbrush. You may need to replace it even sooner than that. The best thing to do is keep a close eye on the bristles so you can determine when it is time.
What Can You Do to Increase the Life of Your Toothbrush?
There are steps that you can take in order to get the most out of your toothbrush. Here are some helpful ones:
Do not keep your toothbrush in a closed container because this encourages the growth of mold and harmful bacteria. Gross!
Do not allow the head of your toothbrush to come into contact with the head of another one. This can spread bacteria from one person to another. It is best the toothbrushes are stored separately.
Rinse your toothbrush after you brush your teeth. You don't need to use any soaps or disinfectants. Just give it a quick rinse after using it.
Never share a toothbrush with someone else, even your significant other or others you are close to.
In order to keep your teeth in the best shape possible, it is crucial that you are using all of the proper tools. By maintaining a good oral hygiene regimen and seeing your dentist for regular cleanings and checkups, you are putting yourself on a path towards a healthy smile.
About the Author
After graduating from James Madison University with his Bachelor of Science in Biology, Dr. Samuel E. Woolwine III pursued his Doctor of Dental Surgery from Virginia Commonwealth University. Afterwards, he was honored to be inducted into Omicron Kappa Upsilon, the National Dental Honor Society for students who demonstrated excellence in character, scholarship, and professional growth. For more information on proper oral hygiene or to schedule an appointment at his office in Lynchburg, visit his website or call (434) 847-5331.
Comments Off

on How Often Should You Replace Your Toothbrush?
No Comments
No comments yet.
RSS feed for comments on this post.
Sorry, the comment form is closed at this time.