January 18, 2021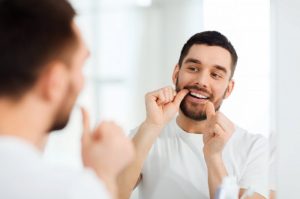 Many of us take a healthy mouth for granted until something starts hurting. We tend to think that dental emergencies will never happen to us, but the truth is that one out of every six Americans will be faced with one this year. By their very nature, these situations, such as a severe toothache or a broken tooth, are unpredictable. There are, however, certain precautions you can take to minimize your risk of having a dental emergency. Here are five of them.
1. Don't Ignore Any Problems in Your Mouth
A minor toothache may not seem like a big deal, especially if it disappears after a while. It can be tempting to brush it off, but you shouldn't. Pain is your body's way of telling you that something is wrong. It may indicate that you have a cavity or infection. Even a small toothache should get looked at by a dentist. Otherwise, the problem may worsen and result in even more pain (and a higher dental bill) later on.
2. Brush and Floss Every Day
It's a good idea to get in the habit of brushing your teeth first thing in the morning and last thing before bed. Brushing for two minutes each time should be enough to remove leftover food debris and prevent plaque from hardening into tartar and causing decay and gum disease.
Keep in mind that brushing only cleans about two-thirds of the surfaces of your teeth. To prevent bacteria and plaque from accumulating between your teeth, floss at least once per day. If you're having trouble with traditional floss, try water flossers, floss picks, or interdental brushes.
3. Reduce Your Sugar Intake
When you consume too much sugar, bacteria naturally present in your mouth feed on the sugar particles and create an acidic byproduct. The acid attacks your tooth enamel, eventually resulting in cavities. By reducing your sugar intake, you give these bacteria less fuel to wreak havoc on your smile.
4. Keep Up with Your Dental Checkups
When you see your dentist twice a year for checkups and cleanings, they can detect oral health issues before they spiral into full-blown emergencies. Plus, the dental hygienist can give your teeth a professional cleaning, removing plaque deposits that contribute to cavities and infections.
5. Wear a Mouthguard
Any time you play a sport that comes with the risk of injury to your face (whether that be with a ball, other equipment, or another player's elbow), you should protect your teeth by wearing a mouthguard. Your dentist can create a custom mouthguard from impressions of your teeth, making it more comfortable and effective at shielding your smile from impact.
There's no surefire way to completely avoid a dental emergency, but by following these tips, you can dramatically reduce their likelihood of damaging your smile.
About the Practice
Our team of three expert dentists at Peery & Woolwine Family Dentistry strives to educate each of their patients on caring for their smiles at home. Their combined decades of experience ensure the residents of Lynchburg, VA and its surrounding communities maintain healthy smiles. If a dental emergency occurs, you can trust that your smile is in good hands. You can book an emergency appointment with them online or by calling (434) 847-5331.
Comments Off

on 5 Easy Ways to Prevent a Dental Emergency
No Comments
No comments yet.
RSS feed for comments on this post.
Sorry, the comment form is closed at this time.