July 23, 2019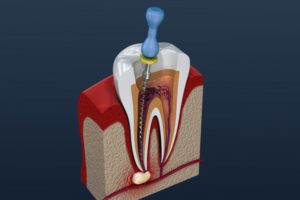 You have a tooth that has been in severe pain for days now. You've finally worked up the nerve to call your dentist and describe your symptoms, and they say you're going to need a root canal. Root canals sounds scary. Are they worth it? Will they be painful? Keep reading to learn what you can expect from root canal therapy in Lynchburg.
What is Root Canal Therapy?
Root canal therapy, also known as a root canal, involves your dentist creating a hole in your tooth to clean any damaged areas of the inner chamber of the tooth root. Decay in these areas can cause severe pain. Root canals have a reputation of being extremely painful, but your dentist should numb you up with a local anesthetic, so you don't feel any discomfort during the procedure.
How Much Pain Will I Have After a Root Canal?
A root canal is a major procedure, so it's completely normal to feel some soreness for a few days afterwards. The local anesthetic from the procedure will wear off after a few hours, and you may experience a little pain and sensitivity. Don't bite down on that tooth for a while, and be very gentle when you brush it.
Since the pain should only be mild, it can usually be relieved with over-the-counter pain relievers such as ibuprofen or acetaminophen. Make sure to tell your dentist about any medications you are taking that may interact with these painkillers. You can also relieve pain through stress management exercises like meditation, yoga, or tai chi.
How Long Does It Take to Heal?
The pain from the root canal should subside over the course of a few days. During that time, you'll want to avoid chewing hard foods on that side of your mouth, as the tooth will still be very sensitive. Stick to soft foods such as yogurt, peanut butter, or cheese for the first day or two, and gradually integrate harder foods into your diet as your tooth heals. Avoid chewing sticky foods with that tooth until your temporary crown has been replaced with a permanent one.
When Should I Seek Help?
Normally, your tooth should be completely pain-free after a few days. However, sometimes pain lasts longer than that, and you may need to alert your dentist. Severe pain that lasts longer than a week could be a sign that the root canal procedure wasn't totally successful. You might require another cleaning session to remove more of the damaged pulp tissue.
Root canals might sound scary and painful, but they are actually designed to relieve you of pain. if you are experiencing painful sensitivity, call your dentist right away so they can make your tooth feel a whole lot better.
About the Author
Dr. James Peery III proudly works alongside his father, Dr. James Peery Jr., to provide quality dental care to Lynchburg, Virginia and the surrounding areas. Dr. Peery III is a member of the American Dental Association and earned his DDS degree from the Medical College of Virginia. To learn more about what to expect from root canals, contact his office at (434)-847-5331.
Comments Off

on What to Expect After Root Canal Therapy in Lynchburg
No Comments
No comments yet.
RSS feed for comments on this post.
Sorry, the comment form is closed at this time.