September 18, 2020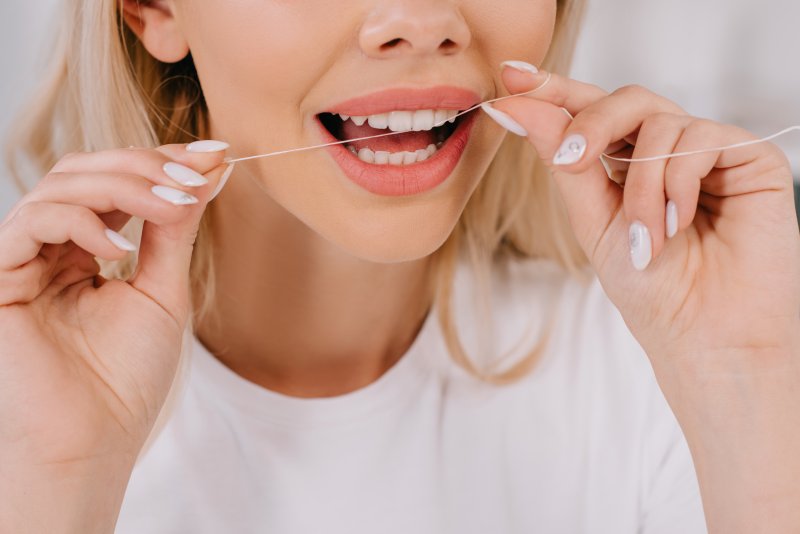 Even if you're the most diligent brusher in the entire world, you won't be able to reach certain areas of your mouth. That's why flossing is so crucial for optimal oral health. The floss helps to clean between the teeth and beneath the gumline, lowering your chances of developing cavities and gingivitis. However, there are some common flossing mistakes that could be putting your smile at risk. Continue reading to learn what those are and how you can correct them.
Not Flossing at the Right Time
There's never a bad time to floss, however there are times when flossing should never be avoided. When you go to sleep at night, saliva flow decreases so the food material left on and between the teeth have a greater chance of starting a bacterial breakdown process. This causes gum inflammation and tooth decay. Because of this, it is especially important that you take time to floss before bed to remove food debris and bacteria that have collected throughout the day.
Brushing and Flossing Out of Order
Flossing at any time is good, but if you had to choose an order between brushing and flossing, it is best to floss first. According to a study in the Journal of Periodontology, participants who flossed before brushing had a smaller amount of plaque between their teeth. The fluoride in your toothpaste is best able to coat areas between the teeth if you have already flossed.
Not Enough Floss
If the strand of floss you are using is too short, it will make it more difficult for you to do a thorough job. You need to be able to wrap the string around your fingers, so you have a clean area to use between each tooth. The American Dental Association recommends using a piece of floss that is about 18 inches long.
Staying Above the Gums
The floss should be pulled below the gumline about 2-3 millimeters in order to remove bacteria. If you aren't doing this, flossing isn't doing much to fight against and prevent periodontal disease. Remember to gently glide the floss up and down the tooth's surface and beneath the gumline in order to loosen plaque, bacteria, and food debris.
Stopping at the Sight of Blood
If your gums are bleeding when you floss, this is a sign that they aren't in a healthy state and you should be flossing more often. As you get into a routine of flossing each day, this bleeding will subside. Flossing is just a way to keep them healthy. Make sure you're seeing your dentist for regular cleanings and checkups so this can be addressed.
Flossing Aggressively
If you are being too aggressive or snapping the floss into your gums, you can actually damage them and cause trauma to the soft tissue. Slide the floss gently and don't saw it at the base of your gum. Snapping the floss into your gums can actually cause them to recede.
Not Flossing the Whole Tooth
When you floss, you should be wrapping the whole tooth with the string. This way, you can clean the entire area and not just between the teeth. Contour the floss around the tooth in a C shape and slide it up and down. Rub the back of the tooth as well.
It's great that you are flossing, but make sure that you are avoiding some of these common mistakes. By perfecting your oral hygiene regimen, you can work towards optimal oral health!
About the Author
Dr. James M. Peery Jr. is a well experienced dentist who has been serving patients in Lynchburg for four decades. He earned his Doctor of Dental Surgery from the Medical College of Virginia and is a former President of the Lynchburg Dental Society. Dr. Peery is also a member of the American Dental Association and the local Rotary Club. For more information on proper oral hygiene or to schedule an appointment, visit his website or call (434) 847-5331.
Comments Off

on 7 Common Flossing Mistakes
No Comments
No comments yet.
RSS feed for comments on this post.
Sorry, the comment form is closed at this time.