October 11, 2020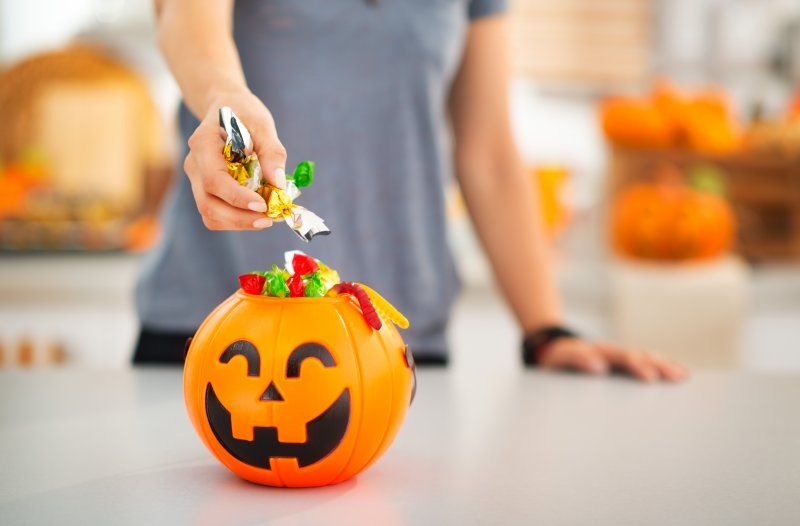 The spooky season is almost here. Whether you've been carving pumpkins or getting you family's costumes together, one thing is for sure. You are likely to see a lot more candy in your near future. While sweets taste delicious and many of us can't resist a lot of the time, they aren't the best for your smile. That's why your dentist is here to share some Halloween candy tips in order to help you and your family get through this fun holiday cavity-free.
Choose Your Candy Carefully
When it comes to Halloween candy, some sweets are worse than others. This is why it's important to choose what you are consuming carefully if you don't want your smile to experience the negative consequences. You should consider how long each particular candy is in your mouth. For instance, you suck on hard candies for several minutes before you swallow it, leaving your teeth exposed to sugar for longer periods of time. Chocolate is easier to wash away so it is a better option to satisfy your sweet tooth.
Have a Candy Plan
As much as you want to keep your candy stash around, it is apparent that many families just can't resist the urge to have a few too many sweet snacks. Have each member of your family choose their favorites. As for the rest, you have a few options. You could either store it out of sight for a later time or find a way to donate it. Your kids could also trade it into you for a non-candy treat.
Maintain Good Oral Hygiene
It is always important to keep up a good oral hygiene routine, but it is extra important this time of year when you have a little bit more sugar in your diet. Remind your family to brush twice and floss at least once daily with proper technique. Always use a fluoride toothpaste and replace toothbrushes approximately every three months or when bristles become frayed. If your family isn't already scheduled for regular cleanings and checkups, now would be a great time to get back on track.
Drink Plenty of Water
Staying hydrated is important for nearly every part of your body, and your smile is no exception. If you aren't drinking enough water, you won't be able to produce enough saliva to keep your smile as healthy as possible. Saliva helps to wash away food particles and neutralize harmful acids.
Time Your Candy Consumption Wisely
If you're going to have a sugary treat, it's best to have it during or directly after a meal. This is because your saliva production increases at this time and helps to neutralize the harmful effects of sweets in your mouth.
This Halloween, your family doesn't need to give up all their candy. By making smart decisions, you can come out of this holiday without the need for additional dental work. Have a wonderful spooky season!
About the Author
Dr. James M. Peery Jr. is a well experienced dentist who has been serving patients at his private practice in Lynchburg for four decades. He is currently a member of the American Dental Association and the local Rotary Club. He is also a former President of the Lynchburg Dental Society. To learn more about keeping your family's smiles healthy or to schedule an appointment, visit his website or call (434) 847-5331.
Comments Off

on 5 Tips for Consuming Your Candy This Halloween
No Comments
No comments yet.
RSS feed for comments on this post.
Sorry, the comment form is closed at this time.