December 30, 2020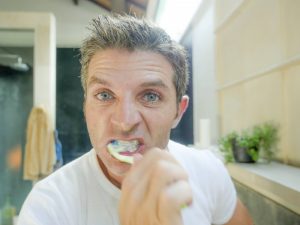 Every time you visit your dentist, you probably have a conversation about how important it is to continue flossing and brushing your teeth on a regular basis, but it's just as crucial that you do it the right way. According to a study conducted by the Wall Street Journal, up to 20% of people in the world have incurred gum or teeth damage due to excessive brushing. Most of the time, this practice begins in early childhood when someone is not taught proper technique. It then becomes a habit into adulthood, and if not corrected, it can cause oral damage. Keep reading to learn how to know if you're brushing your teeth too hard.
Are You Brushing Your Teeth Too Hard?
Tooth enamel may be the hardest substance in your body, but it's not invincible. It might seem impossible that the bristles of a toothbrush could cause severe damage to your teeth or gums, but over time, brushing too hard can have negative consequences. If you think you may brushing a little too aggressively, here are some signs you can look for:
Swollen, Sore, or Bleeding Gums: It's not unnatural to see a little blood every now and then when you brush or floss your teeth, but if it's happening often or your gums seem to be sore or swollen, this is a sign you may be brushing too hard. Over time, this can cause your gums to recede and make them more vulnerable to infection.
Tooth Sensitivity: This is a common condition that millions of people deal with, however, the severity of it is what makes all the difference. If you find yourself being bothered enough by tooth sensitivity to be distracted from everyday activities, it's time to consider how hard you're brushing.
Worn Down Tooth Enamel: It might sound crazy, but over time, the bristles of your toothbrush can contribute to wear on your enamel if used too harshly. Ultimately, this is something that your dentist will be able to determine better than you can, so it's important to see them for regular checkups.
Now that you know what the signs of brushing too hard look like, it's important to know how to curb the bad habit so that you can protect your teeth and gums from any further damage.
Tips for Proper Teeth Brushing
Knowing how not to brush your teeth is the first step towards improvement. Here are a few helpful tips that can aid you in your adjustment:
Try a Soft-bristled Toothbrush
Many people aren't aware that there are different levels when it comes to the hardness of their toothbrush's bristles. The next time to grab one off of the shelf at the drugstore, try to find one with softer bristles. This will help protect your enamel from eroding, even if you do exert a little excess pressure.
Brush at a Forty-Five Degree Angle
This tip may be easier to understand with a diagram, but your dentist can enlighten you. If you tend to brush harder, positioning your toothbrush head at a forty-five-degree angle to your gumline can help reduce it.
Use Shorter Strokes When Brushing
It can be tempting, especially if you're in a hurry, to use quick and long strokes while brushing. The problem is that this also causes you to bear down harder. Instead, try brushing more intentionally and using softer and shorter strokes to protect your gums from cuts and recession.
Be Mindful While You're Brushing Your Teeth
A lot of people tend to grab their toothbrushes and brush mindlessly without actually paying attention to how hard they're brushing or whether or not they're including all of their teeth in the process. It's important to be mentally present and "in the moment" when brushing your teeth so that you know how much pressure you're applying.
If you think you may be a bit too zealous when brushing your teeth, try following these tips, and be sure to see your dentist for an examination soon.
About the Practice
The team of experts at Peery and Woolwine Family Dentistry cares deeply for each of their patients, and it is their main priority to educate them on how to properly care for their teeth and gums. They have combined years of experience and training, which gives them the ability to provide the highest quality of care for you and your family. Are you ready to schedule your next dental checkup? Request a consultation online or call (614) 792-1800.
Comments Off

on How to Know if You're Brushing Your Teeth Too Hard
No Comments
No comments yet.
RSS feed for comments on this post.
Sorry, the comment form is closed at this time.