September 4, 2021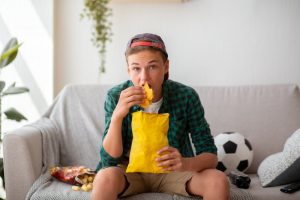 Remember those lazy afternoons as a child when grandma was taking care of you after school? She'd ask if you wanted a snack, but she already knew the answer. Those sure were some enjoyable days.
Snacking habits developed when you are a child can carry over into adulthood, but having a snack is not without its drawbacks. Keep reading to find out how snacking affects oral health, how you can curb the urge to snack, and how to make healthy choices when you do have one.
How Can Snacking Impact My Teeth?
Every time you eat or drink, the bacteria in your mouth start to break down what you just consumed. The bacteria produce acids as a byproduct of this process that eats away at your enamel, which is called demineralization.
If your teeth are exposed to that acid frequently enough, you develop cavities. Your body's best defense against this is saliva, which stops demineralization and begins to strengthen your enamel. When you snack too frequently, you have a steady supply of the acid in your mouth and your saliva cannot keep up.
How Can I Avoid Snacking?
Skipping a snack is a great decision for your teeth, but how do you suppress the urge? Why are you snacking? Maybe it's boredom or stress as opposed to hunger.
The next time you are leaning toward a snack at work, take a short walk or do some stretching. See if getting your blood flowing takes away the need to snack.
If you tend to snack at home, maybe set a rule not to eat in front of the computer or TV. Sometimes people snack when their body is actually thirsty instead of hungry, so grab a glass of water and see if that cancels out your cravings. Snacking occasionally is okay but try to steer yourself away from foods you know are bad for your health.
If I Must Snack, What Should I Have?
First, some of the snacks that are the toughest on your tooth enamel include citrus fruits, sugary candies that are chewy, and pickles. Sodas, sports drinks, and sugary coffee beverages are also troublesome.
On the other hand, some snacks that aren't bad news for your teeth include nuts like almonds and cashews, crispy fruits like apples and pears, raw vegetables such as carrots and cucumbers, or even seaweed snacks.
When searching for a snack, it's best to pick something low in calories, high in water and fiber, full of protein, and low in sugar. These items will make you feel fuller longer and won't have a post-sugar crash.
Smart snack choices benefit your diet and oral health to reduce the risk of cavities. It's a matter of finding the healthy options that you enjoy.
About the Author
Dr. James Peery Jr. has been helping patients in Lynchburg since he moved to the community in 1980. Dr. Peery earned his Doctor of Dental Surgery degree from the Medical College of Virginia. He can offer some more suggestions on snacks that won't take a toll on your teeth or help make sure past snacking isn't causing you trouble by performing a dental cleaning. To make an appointment, visit his website or call (434) 847-5331.
Comments Off

on Is Snacking Bad News for Your Teeth?
No Comments
No comments yet.
RSS feed for comments on this post.
Sorry, the comment form is closed at this time.