August 5, 2021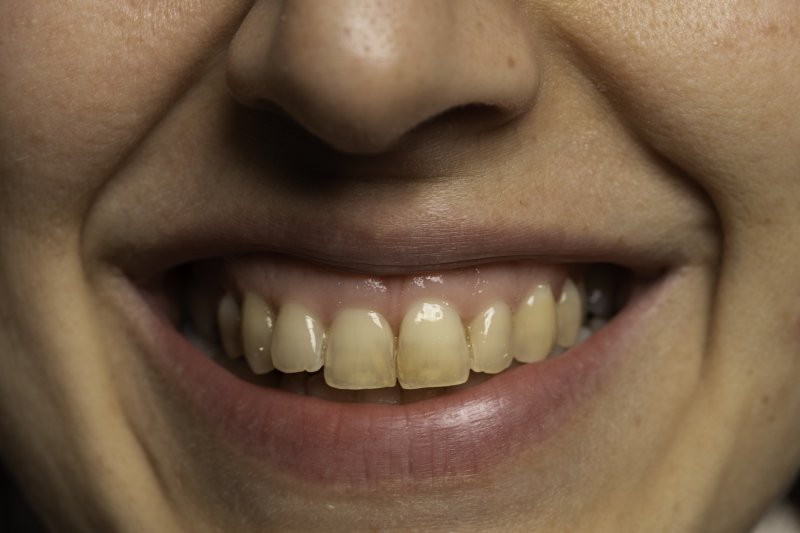 Discoloration can happen for all sorts of different reasons, but it is still something that so many people are self-conscious about. Having white teeth is associated with being younger, more attractive, and healthier. However, the definition of healthy teeth isn't always white teeth. This is a concept that is generally learned from advertising. Continue reading to learn why whiteness isn't always a good way to tell whether or not a smile is in good health.
Teeth Naturally Have a Yellow Tint
These days, we may be obsessed with having bright white teeth, but most whiter teeth actually have a light-yellow hue. The outer layer of your teeth, also known as the enamel, is a blue-white color. However, the middle layer, also known as the dentin, is a thick tissue with a slightly yellow tinge. Ultimately, if you have a healthy, dense layer of dentin and sufficient enamel, your teeth should be an off-white color with a slightly yellow appearance.
Teeth Become Darker with Age
As you get older and age, you may notice that your teeth begin to appear more discolored. Even if you brush and floss as often as you should, changes will still occur over time. Your tooth enamel becomes thinner and the yellow dentin beneath will become more apparent. The years of drinking coffee and tea, smoking, or eating dark foods will add up. Genetics can even play a role. Just because your teeth are becoming darker doesn't always mean that they are less healthy. By keeping up with your regular dental visits, your dentist will keep an eye out for oral health issues that could spell trouble.
Certain Colored Stains Can Indicate Problems
While a yellowing or darkening of the teeth isn't usually an indication of a problem, there are some types of discoloration that can warrant a trip to the dental office. If your teeth are darker than a light-yellow color, this can be caused by heavy smoking. This unhealthy habit can lead to numerous dental problems. Some disease, like fluorosis, can change the color of your enamel or dentin. Green or oral stains can mean bacteria or fungi. Red, black, or brown stains can be linked to porphyria, a rare, yet manageable genetic disorder.
Discoloration doesn't always point to oral health issues, but if you notice anything abnormal, it doesn't hurt to bring it up to your dentist. This way, you can be at ease and fully informed about the state of your pearly whites!
About the Author
Dr. James M. Peery, Jr is an experience dentist who has been serving patients in the Lynchburg community for over four decades. He earned his dental doctorate from the Medical College of Virginia. He is a former President of the Lynchburg Dental Society and a member of both the American Dental Association and local Rotary Club. If you're unhappy with discoloration, he may be able to help. For more information or to schedule an appointment, visit his website or call (434) 847-5331.
Comments Off

on White Teeth Doesn't Mean Healthy Teeth – Here's Why!
No Comments
No comments yet.
RSS feed for comments on this post.
Sorry, the comment form is closed at this time.