July 13, 2021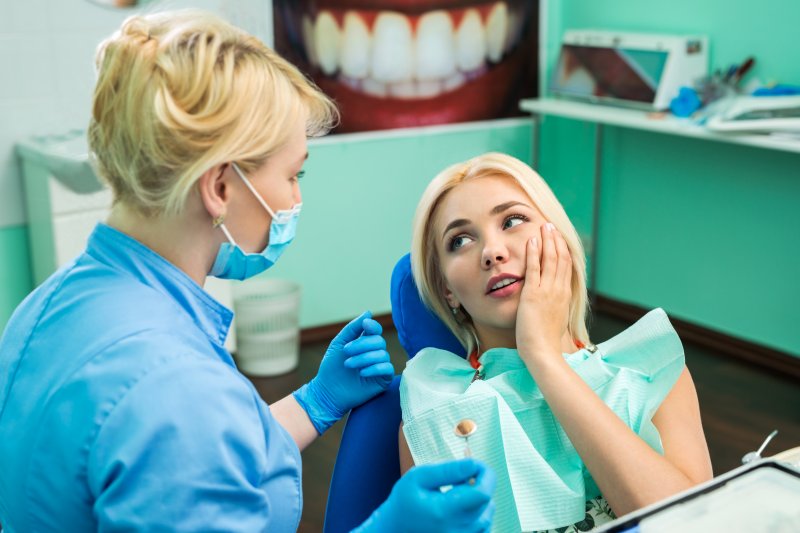 After rolling out of bed one morning, you instantly realize something feels off about your face. You run to the bathroom mirror and – oh no. Your face is swollen! Do you know what to do in this situation? Most people may start heading to the emergency room in hopes of seeking medical attention from nurses and doctors. However, it may surprise you to learn that the best course of action is to see your dentist! Here's why you should see an emergency dentist for facial swelling and what to expect during your visit.
Why Should I See an Emergency Dentist?
Everyone knows to seek help from a dentist if there are problems with the teeth or gums. But what about facial discomfort? If you're experiencing swelling around your face, mouth, or gums, you should contact your emergency dentist right away as it could signal troubling oral health issues. They can assess your symptoms and provide you with prompt relief.
Depending on the severity of your condition, you might be able to hold off on seeking treatment until your next dentist appointment. However, if the issue persists, worsens, or the pain does not improve after two to three days, then you should call your dentist immediately.
What Causes Facial Swelling?
There are many reasons you might experience facial swelling – and most are acute crises that require immediate treatment. When you see your emergency dentist, these are two common causes they will search for:
Tooth Abscess – An abscessed tooth occurs when bacteria enter the pulp (the chamber that contains the nerves and blood vessels) and causes an infection. It's critical to treat it before it spreads throughout the face and other parts of the body. Patients with this condition might experience severe pain, fever, tooth sensitivity, and a bitter taste in the mouth.
Salivary Gland Infection – The salivary glands, or parotid glands, are located in the cheeks. When they become infected, they swell and cause extreme pain. Depending on your condition, your dentist may refer you to an ear, nose, and throat doctor.
What Can I Expect During My Emergency Visit?
First and foremost, your dentist will perform a thorough oral evaluation to assess your symptoms, diagnose your needs, and determine the proper treatment.
If you have an abscessed tooth, your dentist will remove the bacteria, clean the affected area, and place a restoration over the tooth to prevent further damage.
If you have a salivary gland infection, they might prescribe you an antibiotic or remove parts of the gland if necessary.
As you can see, you should never take facial swelling and pain lightly. If you're experiencing these issues, contact your emergency dentist as soon as possible for treatment.
About the Practice
At Peery & Woolwine Family Dentistry, we offer high-quality, comfortable, and personalized dental care that the entire family can enjoy. We understand dental emergencies can happen when you least expect it, so if you're experiencing painful facial swelling, don't hesitate to contact our team. We offer immediate help so you can get right back to enjoying your life without issue! Visit our website or call (434) 847-5331 to schedule an appointment.
Comments Off

on Should I See an Emergency Dentist for Facial Swelling?
No Comments
No comments yet.
RSS feed for comments on this post.
Sorry, the comment form is closed at this time.